Arches Tinnitus Formula
Order Now and get Free Shipping on 4 or more bottles. Plus you save $30!
U.S. Orders Only. No code required.
Specifically formulated for ringing in the ears with clinically proven ingredients plus our proprietary Ginkgo Max 26/7® for tinnitus. Our natural tinnitus treatment is recommended by thousands of leading ENT doctors for their patients with tinnitus.
Have questions about ordering online?
Go to Ordering & Purchasing FAQ >
Still have questions? Call us toll free 1-800-486-1237
There are no reviews yet. Be the first one to write one.
Our Number One Best Seller
If you do only one thing for your tinnitus take Arches Tinnitus Formula®. Each bottle contains a scientific blend of 100 high potency capsules. Take 2 capsules, twice each day. Each serving of 2 capsules contains: 240 mg Ginkgo Max 26/7®, proprietary Ginkgo biloba extract, 15 mg Zinc picolinate, 300 mg of deodorized Garlic.
Both Ginkgo biloba extract and Zinc have been shown effective in numerous clinical studies as treatments for tinnitus. Many individuals may experience a reduction of symptoms within eight weeks. It is important to take 2 capsules twice daily for at least 100 days (4 bottles) in order to determine your total degree of relief.
ENT doctors recommend trying 4 bottles to determine total effectiveness. Get $30 off plus free shipping!
No Prescription Needed – Not Sold In Stores
Caution: Ginkgo biloba extract increases circulation and has a mild anticoagulant function. People who are taking prescription anticoagulants, such as Coumadin, or Plavix, or who have a history of bleeding problems such as hemophilia, frequent nosebleeds, hemorrhaging, etc. should consult their physician before using this product.
ENT doctors recommend trying 4 bottles to determine total effectiveness. Get $30 off when you do!
The truth is there's no "quick fix" for tinnitus. Most individuals who experience a reduction of the ringing sound, do so in 8-12 weeks, although some will take longer, some may take less. Everyone is different. Referring ENT doctors tell their tinnitus patients to try the natural tinnitus treatment for a minimum of 100 days consecutive day (4 bottles) to determine its total effectiveness.
Supplement Facts: Arches Tinnitus Formula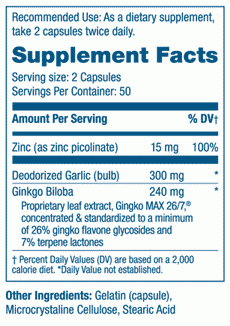 Each serving of two capsules contains natural premium-grade ingredients of Ginkgo Max 26/7 (Ginkgo biloba extract -240 mg), deodorized garlic bulb (300mg) and Zinc picolinate (15mg)

Superior Ingredients produce Superior Results
Our proprietary, higher potency, higher concentrate Ginkgo biloba extract, Ginkgo Max 26/7®, is specifically designed for ringing in the ears. Only Arches has Ginkgo Max 26/7®; plus Zinc picolinate for better absorption; Deodorized garlic helps to manage blood pressure, control stress, and reduce deposits of cholesterol which can be found in the small artery leading to the inner ear.
Success Stories
Grace F.
Baldwin City, KS
Thank you Arches as your formula cured my sudden onset tinnitus a few years ago. It was so loud  and such a sudden change I couldn't sleep and it really was a difficult time in my life. I took your formula for about 2 years (and made the other changes that were suggested) with steady improvement that I no longer have tinnitus and no longer need to take the formula. This to me is a miracle! *
* Results may vary for every user.
Bob S.
Subiaco, AU
My tinnitus has all but disappeared thanks to Arches Tinnitus Formula. I've suffered for 25 years and tried so many things: variation in diet including total fasting, exercise, alternative treatments and even silence, none of which helped. After 4 weeks on your formula my tinnitus began to vary, coming and going for 10 days, then it didn't come back. That was 2 months ago. It's just a whisper that I sometimes notice in bed at night. With the currency difference and shipping to Australia it's relatively expensive for me, but worth it. If I was younger I'd offer to be an Australian distributor for Arches as there is a market here that would benefit so much from this excellent product. *
* Results may vary for every user.
Morgan P.
Brewton, AL
I am a Forester / Arborist and have worked in the timber industry for over thirty years. Over the years I have neglected to use the proper ear protection and have suffered with the constant ringing in my ears, consequently from the use of chainsaws, chippers and other power equipment of my profession. I started taking the supplement, Arches Tinnitus Formula a year ago and can honestly tell the difference it has made in my quality of life. The ringing I suffered with at bedtime has ceased and given me a much more peaceful rest. I continue to take it daily and recommend to anyone that is looking for relief from the constant ringing!*
* Results may vary for every user.