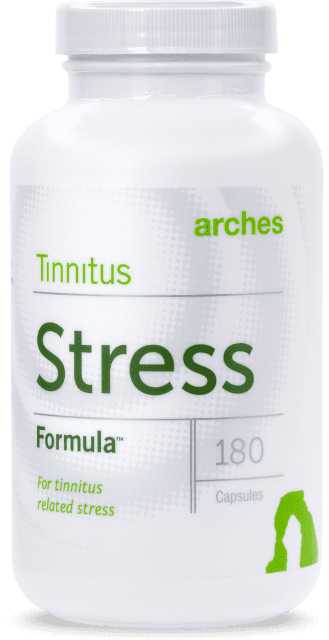 Arches Tinnitus Stress Formula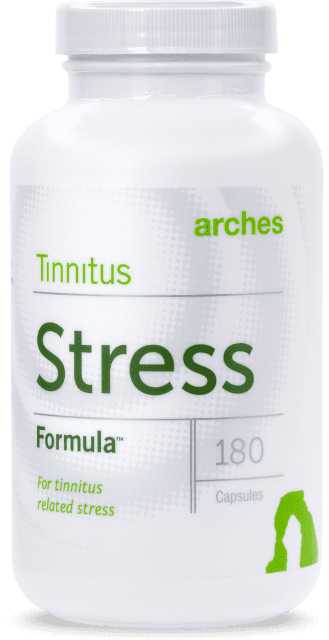 Get 40% OFF – While Supplies Last!
Lot Expiration Sale! Lot expires: July 31, 2024
1 bottle = 90 days. You save – $15.98!  (While supplies last)
Our high-potency Vitamin B-Complex can alleviate the worry and frustration of tinnitus-related stress. Supports the work of Arches Tinnitus Formula.
Have questions about ordering online?
Check out our Ordering & Purchasing FAQ >
Still have questions? Call us toll free 1-800-486-1237
There are no reviews yet. Be the first one to write one.
For Stress due to Tinnitus
Each bottle has 180 high-potency, stress relieving capsules. A 90-day supply – at recommended dosage of 2 capsules daily.
This high potency, B-Complex vitamin can alleviate the worry and frustration due to the effects of tinnitus related stress.
B-Vitamins are water soluble and must be replaced on a daily basis to manage stress and to enhance your use of Arches Tinnitus Formula®.
Stress is the number one aggravator of tinnitus. B Vitamins are consumed by the body at an accelerated rate when under stress.
Arches Tinnitus Stress Treatment Protocol:
Arches Stress Formula works best when taken in conjunction with Arches Tinnitus Formula, or as part of the Combo Pack. If taken alone, you may not experience as much relief from tinnitus- related stress as when taken together.
We recommend taking Arches Tinnitus Formula for at least 100 days (4 bottles) to achieve the full degree of tinnitus relief. Our experience shows that a significant reduction in sound levels can be achieved in 60-100 days. Some people experience a change in less than 60 days.
Arches Tinnitus Stress Formula
Recommended Use: As a dietary supplement take 2 capsules daily. Serving size 2 Capsules; Servings per container:90. Each serving of two capsules contains natural premium-grade ingredients of: Thiamin (asthiamin HCL) 100 mg;Riboflavin 100 mg; Niacin (as niacinamide) 100 mg; Vitamin B-6 100 mg; Pantothenic Acid 100 mg; Choline (as choline bitartrate) 100 mg. Other ingredients: Gelatin (capsule); Silicon Dioxide; MCC; Stearic Acid
Success Stories
Megan M.
Ashland, OR
When my left ear started buzzing at me (very loudly), one afternoon last February, I did not even know the term tinnitus. A bit of web research left me even more upset and hopeless. Five ear nose and throat doctors didn't help a bit either (lots of allergy drugs). I finally found your site and some of the sanest info on tinnitus on the web. I have had very noticeable improvement after starting to use your Relief and B-12 Formulas.
For me at least the biggest single factor seems stress, it is literally as if I hear my fear. I am slowly learning to monitor myself, breathe better, and stay calm. Your website seems one of the few places on the Internet that really encourages people to sense the interconnected and almost metaphysical nature of the condition.*
Thank You! Thank You!
* Results may vary for every user.
Ken P.
Staten Island, NY
It's approximately 80-85 days since I ordered and have used Arches Tinnitus, Stress and B12 Formulas. The potency of the formulas kicked in about 2 weeks ago. My tinnitus which focused on my left side (left ear) most of the time has gone from nuisance level ranges of approximately 2 through 4.5 to the present 2 through 2.5 and is more consistent at the latter 2-2.5 levels than when the tinnitus ranged 2-4.5. Isn't that GREEAAT!*
Be well
* Results may vary for every user.
Raymond C.
Opelousas, Louisiana
After taking Arches Tinnitus Formula for about 70 days my tinnitus has reduced significantly. I was determined, I had to do something, finally my doctor prescribed ATF. THANK YOU. You have helped restore the quality of life I once knew.*
* Results may vary for every user.