Arches Tinnitus Combo Pack
Order Now and get Free Shipping!
U.S. Orders Only. No code required.
Set yourself up for success with the doctor recommended 3 month combo pack of all Arches Tinnitus Formulas.
Take the Complete 90 Day Trial – and SAVE $64.75 off retail prices.
Have questions about ordering online?
Check out  Ordering & Purchasing FAQ >
Still have questions? Call us toll free 1-800-486-1237
There are no reviews yet. Be the first one to write one.
4 bottles – Arches Tinnitus Formula® with premium-grade Ginkgo Max 26/7®, Zinc picolinate, and deodorized Garlic. 100 day supply at recommended dosage. Only Arches has Ginkgo Max 26/7®, our proprietary, higher potency, highest concentrate Ginkgo biloba extract, specifically designed for tinnitus
1 bottle – Arches Tinnitus Stress Formula® with high potency B vitamin complex. 90 day supply at recommended dosage.
1 bottle – Arches Tinnitus B-12 Formula® a raspberry flavored high potency dietary supplement lozenge. 90 day supply at recommended dosage.
Caution: Ginkgo biloba extract increases circulation and has a mild anticoagulant function. People who are taking prescription anticoagulants, such as Coumadin, or Plavix, or who have a history of bleeding problems such as hemophilia, frequent nosebleeds, hemorrhaging, etc. should consult their physician before using this product.
Arches Tinnitus Combo Pack Treatment Protocol:
Taking Arches Tinnitus Formula (4 bottles) along with a high potency B Vitamin component (our Tinnitus Stress and B-12 Formulas) provides the most effective combination of vital supplements for your tinnitus.
The Arches Tinnitus Combo Pack has been formulated to provide the greatest degree of relief, and is especially recommend for first time users. It is also the best value—saving you $64.75 over purchasing these products individually.
Arches Tinnitus Formula (Combo Pack)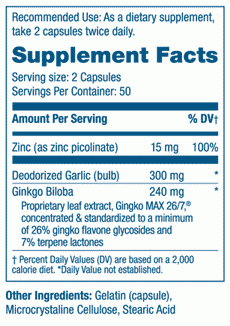 Arches Tinnitus Stress Formula (Combo Pack)
Arches Tinnitus B12 Formula (Combo Pack)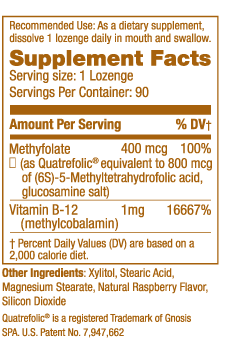 Other Ways our Combo Pack Reduces Tinnitus and Stress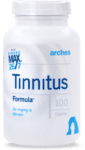 Zinc Picolinate
Tinnitus Formula
In a clinical study 82% said their tinnitus improved using a special zinc designed for better absorption.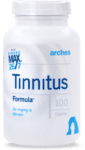 Deodorized Garlic
Tinnitus Formula
Helps to reduce cholesterol that can reside in the small artery leading to the inner ear.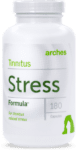 B-Vitamin Complex
Stress Formula
Deficiency in these vitamins has been shown to result in tinnitus. B-Vitamin Complex can improve tinnitus, reduce stress and improve mood.
Vitamin B-12
B-12 Formula
B-12 cannot be stored in the body and must be replenished daily. A correlation between low Vitamin B-12 levels and increased prevalence of tinnitus.

Superior Ingredients produce Superior Results
Our proprietary, higher potency, higher concentrate Ginkgo biloba extract, Ginkgo Max 26/7®, is specifically designed for ringing in the ears. Only Arches has Ginkgo Max 26/7®; plus Zinc picolinate for better absorption; Deodorized garlic helps to manage blood pressure, control stress, and reduce deposits of cholesterol which can be found in the small artery leading to the inner ear.
Success Stories
Cecilia L.
Garnett, KS
I have suffered with tinnitus for about 10 years. A friend in a health food store told me about your website and I ordered the Combo Pack. I did not believe it would help. Now after taking it for almost two months I have noticed a big improvement. I cannot thank my friend enough and I will keep taking your formulas. Your success stories helped me understand tinnitus better through their testimonies. I could empathize with them all. I am positive I will continue to improve as time goes by. Thank you so much!*
* Results may vary for every user.
Irene W.
I made the mistake of running out of your product, I thought well it's been a year since I developed tinnitus maybe I've adjusted to the sound and don't need to take anything. Well two weeks have past going on three weeks and the ringing is starting to come back louder and a clicking sound which I had not had. This tells me that the Arches TinnitusFormula was definitely making a difference. I will wait for my product to get here. And I can't wait. I love you guys! Don't know where I'd be without a strong faith and your product!*
* Results may vary for every user.
Quinn J.
Sandy, UT
I am writing this to let you know how effective your product has been for me. Please feel free to publish this for other people suffering with tinnitus to read. They are more than welcome to send me email with questions about my experience with your product.
Here's my story: I served in the U.S. Army for six years. Three of those years, I served as an Infantryman. During those three years I was exposed to extremely loud noises. I was a gunner on a 4.2″ mortar crew.
I know that several times I missed plugging my ears before the high explosive round went downrange. No, I didn't wear earplugs (shame on me). It wasn't long after I got out of the army that I noticed (especially when it was quiet) a terrible ringing in my left ear. It would come on like someone putting one those tuning forks next to your ear.
It got so bad at times it would make me think I was "losing it." I had no idea what it was. I lived with it until I was introduced to your product, Tinnitus Formula. I've taken 4 pills every day for over a year now and I have only experienced two or three episodes of ringing that were very mild.
The Tinnitus Formula literally stopped the episodes within the month I started taking it.
Your product is truly amazing! Thanks a lot! I've just recently started taking the Tinnitus Stress Formula and the B-12 lozenges. They are a great compliment to the Tinnitus  Formula. I've found that stress really does aggravate my tinnitus. I'm looking forward to a life completely free of tinnitus thanks to you and your product.*
* Results may vary for every user.