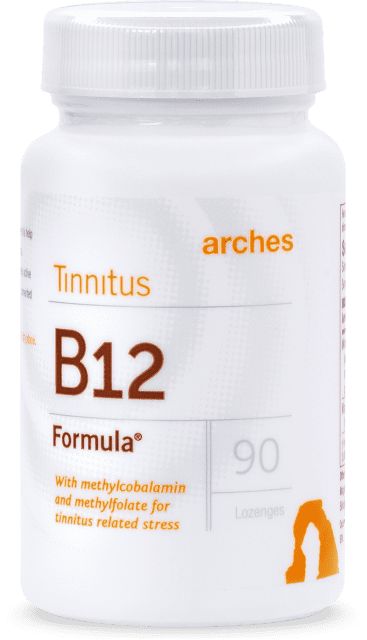 Arches Tinnitus B12 Formula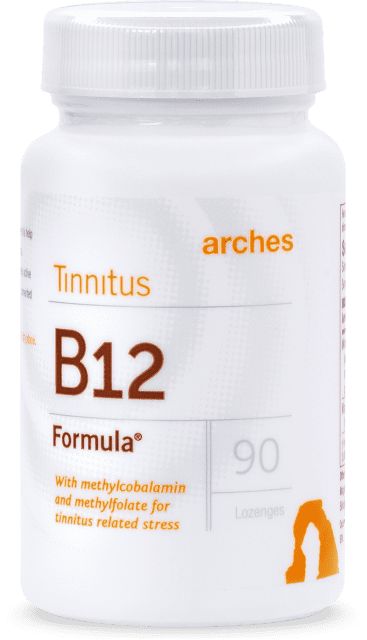 U.S. Orders Only. No code required.
New & Improved: with both methylcobalamin (best B12) and methylfolate (best folic acid). A raspberry–flavored lozenge placed under the tongue for highest absorption. Clinical studies have shown a statistical link between vitamin B-12 deficiency and tinnitus.
Have questions about ordering online?
Check out our Ordering & Purchasing FAQ >
Still have questions? Call us toll free 1-800-486-1237
There are no reviews yet. Be the first one to write one.
Improved High-Potency
1000 mcg Vitamin B-12 (methylcobalamin – for better absorption)
400 mcg methylfolate (superior folic acid – for better absorption)
A study showed a high prevalence of B-12 deficiency in patients with chronic tinnitus as well as a correlation between the decline of vitamin B-12 levels and the increasing prevalence of tinnitus in the elderly. Help manage daily stress associated with tinnitus.
This pleasing raspberry flavored lozenge is dissolved under the tongue and then swallowed for maximum absorption and taken daily.
Made with improved methylcobalamin (B-12) and methylfolate (superior folic acid) for better asorption.
Arches B-12 Formula works best when taken in conjunction with Arches Tinnitus Formula. If taken alone, you may not experience as much relief as when taken together.
We recommend taking Arches Tinnitus Formula for at least 100 days (4 bottles) to achieve the full degree of tinnitus relief. Our experience shows that a significant reduction in sound levels can be achieved in 60-100 days. Some people experience changes in less than 60 days.
Arches Tinnitus Stress and B12 Formulas also work together for reducing tinnitus-related stress.
Arches Tinnitus B12 Formula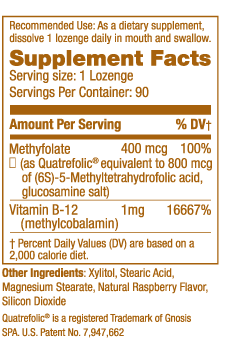 Each sublingual lozenge contains: Methylfolate 400 mcg; Vitamin B-12 (methylcobalamin) 1 mg
Success Stories
Ellen G.
Syracuse, NY
I have written before, but must write again to say that your Tinnitus Formula has made a major difference in my life. I have Meniere's Disease. While I was taking the 4th bottle of ATF, the ringing in my ears, which had been almost unmanageable, was reduced by about  70%, the pulsatile tinnitus was similarly reduced, and I am no longer  experiencing episodes of vertigo. All of these symptoms had been very difficult and I am immensely grateful for the help I have experienced using this product.*
Thank you.
* Results may vary for every user.
Ken P.
Staten Island, NY
It's approximately 80-85 days since I ordered and have used Arches Tinnitus, Stress and B12 Formulas. The potency of the formulas kicked in about 2 weeks ago. My tinnitus which focused on my left side (left ear) most of the time has gone from nuisance level ranges of approximately 2 through 4.5 to the present 2 through 2.5 and is more consistent at the latter 2-2.5 levels than when the tinnitus ranged 2-4.5. Isn't that GREEAAT!*
Be well
* Results may vary for every user.
Beth Kohn
L.Ac, MTOM, Dipl. Ac., Dipl. CH, Henry Ford Center for Integrative Medicine; Northville, MI
I am a Traditional Chinese Medical practitioner at Henry Ford Center for Integrative Medicine and Dr. Michael Seidman is our Medical Director. He is a wonderful and amazing person and physician and is highly regarded amongst our staff here. He often refers patients to us who have not found relief with their tinnitus using all that he has to offer…including the Arches Tinnitus Formulas. I have heard a great number of people who have had wonderful success with your formulas…we carry them here.
Thank you for having such a wonderful product and for informing patients that there can be relief out there for them!*
Yours in Health,
* Results may vary for every user.