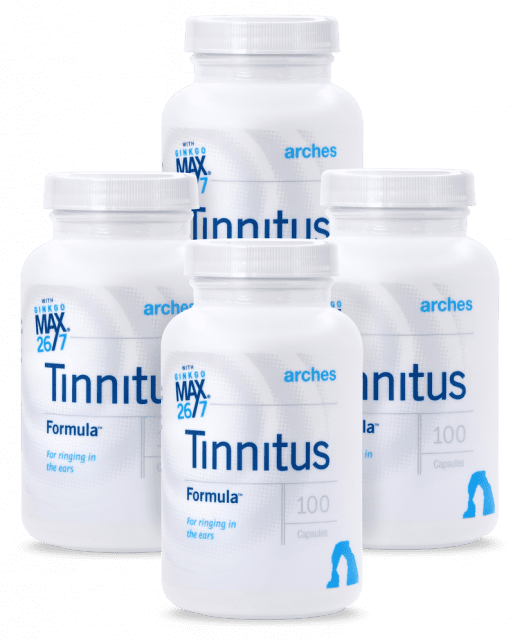 Arches Tinnitus Starter Kit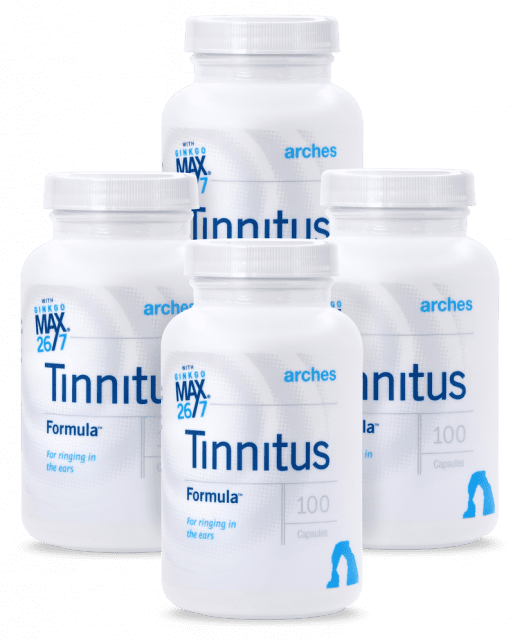 Order Now and get Free Shipping!
U.S. Orders Only. No code required.
Get started with Arches Tinnitus Starter Kit for tinnitus relief today. With the complete 100-day trial of our number-one selling product for tinnitus, Arches Tinnitus Formula®, the natural tinnitus treatment for ringing in the ears. Now with Ginkgo Max 26/7® If you do only one thing for your tinnitus it's Arches Tinnitus Formula Starter Kit.
You Save $30 off individual prices.
Have questions about ordering online?
Check out our Ordering & Purchasing FAQ >
Still have questions? Call us toll free1-800-486-1237
Grateful my ENT recommended Arches
Hello! First off, I am totally blind. So when I started hearing a unexplained hissing in 2014, I became very concerned. Thankfully, my hearing tested fine but I wanted an ENT to find out what this mysterious hissing was. Alas, I was diagnosed with tinnitus. Asking the ENT doc what I could do, he recommended Arches, and I am so grateful to him. Arches works great, really. I can occasionally hear the hissing, but it's not bad and doesn't last long. I know it's working when I don't even think about the fact I have tinnitus. I hope it works for you as well as it does for me! Thank you, Arches!
Tinnitus Relief Takes Time
Leading Ear Nose and Throat physicians recommend taking Arches Tinnitus Formula® for 100 days (4 bottles) to determine your total reduction of tinnitus noise levels.
Each bottle is a scientific blend of 100 high potency capsules. Take 2 capsules, twice each day. Each serving of 2 capsules contains: 240 mg Ginkgo Max 26/7®, our proprietary Ginkgo biloba extract, 15 mg Zinc picolinate, 300 mg of deodorized Garlic.
Caution: Ginkgo biloba extract increases circulation and has a mild anticoagulant function. People who are taking prescription anticoagulants, such as Coumadin, or Plavix, or who have a history of bleeding problems such as hemophilia, frequent nosebleeds, hemorrhaging, etc. should consult their physician before using this product.
Arches Tinnitus Starter Kit Treatment Protocol:
Leading ENT doctors recommend taking 4 bottles to determine total effectiveness. Get $30 off when you do! There is no "quick fix" for tinnitus. Most individuals who experience a reduction of the ringing sound, do so in 8-12 weeks, although some will take longer, some may take less. Everyone is different. Referring ENT doctors tell their tinnitus patients to try the natural tinnitus treatment for a minimum of 100 days consecutive day (4 bottles) to determine its total effectiveness.
Save $30 when you order the Arches Tinnitus Starter Kit!
Arches Tinnitus Formula (Starter Kit)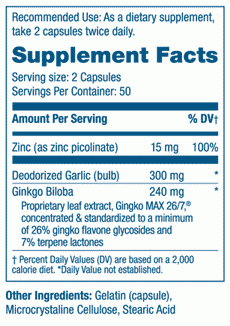 Each serving of two capsules contains natural premium-grade ingredients of Ginkgo Max 26/7 (Ginkgo biloba extract -240 mg), deodorized garlic bulb (300mg) and Zinc picolinate (15mg) for daily tinnitus help.

Superior Ingredients produce Superior Results
Our proprietary, higher potency, higher concentrate Ginkgo biloba extract, Ginkgo Max 26/7®, is specifically designed for ringing in the ears. Only Arches has Ginkgo Max 26/7®; plus Zinc picolinate for better absorption; Deodorized garlic helps to manage blood pressure, control stress, and reduce deposits of cholesterol which can be found in the small artery leading to the inner ear.
Success Stories
Stephen D.
MA
I have been a customer of Arches for probably seven or so years. I was lucky to have stumbled across you while doing research online. This was after the onset of tinnitus ripped my life apart. I lost my ability to work as a chef, my apartment and so on.I am fortunate enough to have put things back together over time and things are much better. Your products have had a huge difference in my quality of life. I now run a very successful personal chef business and we are very busy.*
Thank you.
* Results may vary for every user.
Warren W.
San Francisco, CA
Ever since I started using Arches Tinnitus Formula I have had nothing but great success. Every doctor I went to see told me there was nothing they could do for me and could not help me. I was at my wits end with constant discomfort. I couldn't concentrate and I couldn't enjoy my daily life. I was very depressed. I stuck with your product and it has been a godsend. I am now taking only two capsules per day. On occasion, I may take two more when needed, which is quite infrequent. I hardly notice the hissing and I can cope with it. I am about 80% to 90% better, which is very livable. I have recommended this product to my friends and to one of my doctors.*
Thank you once again for this great product.
* Results may vary for every user.
Beth Kohn
L.Ac, MTOM, Dipl. Ac., Dipl. CH, Henry Ford Center for Integrative Medicine; Northville, MI
I am a Traditional Chinese Medical practitioner at Henry Ford Center for Integrative Medicine and Dr. Michael Seidman is our Medical Director. He is a wonderful and amazing person and physician and is highly regarded amongst our staff here. He often refers patients to us who have not found relief with their tinnitus using all that he has to offer…including the Arches Tinnitus Formulas. I have heard a great number of people who have had wonderful success with your formulas…we carry them here.
Thank you for having such a wonderful product and for informing patients that there can be relief out there for them!*
Yours in Health,
* Results may vary for every user.