Sensorineural Hearing Loss Discussed at DC Conference 2002
By Brent Curtis 
Brent Curtis has lived with tinnitus for 40 years and serves as Marketing Director and CEO for Arches Natural Products, Inc.
I love talking with hearing professionals about Arches Tinnitus Formulas. It is their education and experiences in treating tinnitus that makes them such a receptive audience. So I was very excited to go to Washington D.C., along with marketing consultant Susan Koles, to meet with hearing doctors and bring them some good news.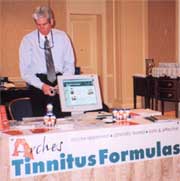 Time and again when meeting with Ear, Nose, & Throat doctors (ENTs) I hear them say, "There isn't much I can do for my patients when it comes to relieving their tinnitus." Once they read the clinical evidence supporting our formulas and hear about the rapidly growing acceptance for our products by their colleagues, they get excited too.
"Contemporary Management of Sensorineural Hearing Loss (SNHL)," was the topic of the 15th Annual American Academy of Otolaryngology – Head and Neck Surgery Foundation Cherry Blossom Conference. This three-day event, March 22nd – 24th, 2002, in Pentagon City, VA, brought educational opportunities for otolaryngologists (ENTs), audiologists, hearing scientists, and other professionals, as well as chance to meet with a select group of hearing health companies. Between answering questions about our Tinnitus Formulas and signing up new physicians we were kept extremely busy.
Sensorineural hearing loss (nerve deafness) was previously thought to be untreatable. Now, recent research has led to safe and effective management of this disease. The conference placed special emphasis a review of current research as well as treatment for presbycusis and genetic deafness. Presbycusis is the loss of hearing that gradually occurs in most individuals as they grow older.
Internationally recognized tinnitus authority, Michael Seidman, M.D., F.A.C.S., was a guest speaker, presenting the "Overview of Medical Treatment of SNHL." Dr. Seidman is a nationally recognized authority on tinnitus, and is Co-Director of the International Tinnitus Symposium. Dr. Seidman recommends Arches Tinnitus Formulas to his patients.
SNHL is the most common type of hearing loss, occurring in 23 percent of population older than 65 years of age. The term "sensorineural" is used to indicate some pathological change in structures within the inner ear or in the acoustic nerve. Common causes include old age, where the hearing pattern is often called presbycusis, cancer treatment, ototoxic medications (such as powerful antibiotics), toxic noise exposure, and less commonly, inner ear trauma and immune disorders. Infections such as meningitis can cause hearing loss in children, occurring in approximately 20 percent of those with streptococcus pneumonia meningitis.
The ingredients in Arches Tinnitus Formula® have also been shown to be of real benefit in restoring hearing loss caused by SNHL. In one clinical study, hearing weakness due to inner ear problems was treated with gingko extract for a period of nine weeks. The results showed that 35 of the 59 patients in the study had either "successful" or "very successful" improvements in hearing(1). Similarly, when 350 patients with hearing defects due to advancing age were treated with ginkgo extract, the success rate was 82%. Furthermore, a follow-up study of 137 of the original group of elderly patients 5 years later revealed that 67% still had better hearing(2).
During speaker breaks, continental breakfasts, and lunches, doctors would meet with hearing-health vendors to learn about the latest products to treat a variety of ear, neck, head, and throat conditions. Arches Natural Products, Inc. was the only company providing a solution for tinnitus at the conference.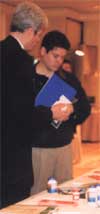 Just like with the national convention of AAO-HNSF that we attended last September in Denver, we received a warm welcome for our products and therapies. These hearing specialists were truly excited to find an inexpensive, viable, and safe treatment option to give their patients that produced results. With only two people to tell our tale and the fact that the doctors were let out only for brief periods – all at the same time – we were still able to speak with over 70 ENT's. Sixty of those doctors immediately chose to join our doctor-referral program.
(1) Sprenger, F.H. 1986. Inner ear hearing loss – good results with Ginkgo biloba. Ztl. Praxis 38: 938-40
(2) Koeppel, F.W. 1980. Tebonin-therapy with old hard-of-hearing people. Therapiewoche 30: 6443-46.