By Barry Keate
Barry Keate, has lived with tinnitus over 40 years and has published 150+ research articles on numerous aspects of tinnitus. He is an expert on the condition and a well-known advocate for those with tinnitus.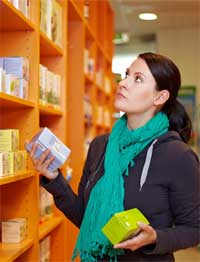 Editor's Note: This is fourth in a series of articles reviewing products for tinnitus that exist in an ever confusing and competitive marketplace and how they compare with Arches Tinnitus Formulas. The complete series can be seen in our Tinnitus Research Library under Arches vs. The Competition.
We have previously explored over-the-counter products marketed to help tinnitus and compared them with Arches Tinnitus Formula® (ATF) with Ginkgo Max 26/7®. These articles have dealt with Lipo-Flavonoid, Homeopathic Remedies, and E-Book Downloads for Tinnitus. This article will discuss two products that are closely related and sold exclusively on Amazon.
Tinnitivix and Ring Zen are two separate products, both with the same address in Grandville, MI. Tinnitivix states that it is distributed by Tinnitivix and Ring Zen states it is distributed by Ring Zen yet from the same address. There is no mention of ownership or contact information on how to reach them on either label. They both recommend their own products and strongly recommend also purchasing the other product and using them together.
Both products use a simple website which directs a customer to Amazon in order to purchase. There is no contact information on either website. The companies do not provide any customer service and no phone numbers.
Below, you'll find a detailed analysis of the components of the two products. For those who wish to skip this section, please go to Summary of Tinnitivix and Ring Zen following the analysis.
Tinnitivix and Tinnitus
This product's ingredients are encapsulated and fall into three categories, according to the label; Essential Vitamins & Minerals, Nerve Optimization Complex, and Anti-Inflammation Complex.
1 – Essential Vitamins & Minerals contains the following:
Vitamin B12 (0.5 mg) should never be swallowed in a pill as stomach acids degrade it before it can be absorbed. Physicians always administer it as an injection. The next best way to absorb it is as a sublingual tablet that dissolves under the tongue and is directly absorbed from the mouth. This is the form used in Arches Tinnitus B12 Formula. Swallowing B12 is a complete waste.
Zinc (30 mg) is potentially an effective mineral to help reduce tinnitus. Unfortunately, the form of zinc is not specified and bioavailability of zinc varies greatly. The most common form in inexpensive multivitamins is zinc oxide. This is essentially the mineral form and is extremely difficult to absorb with only 5% to 10% of it ever reaching the blood stream. Zinc that has been chelated is much more absorbable. Chelation is the process of combining a mineral with an amino acid. The body easily absorbs the amino acid and the mineral is released. Zinc picolinate is the highest absorbing zinc product available with absorption rates of about 60%. This is the form of zinc used in ATF. Without any specification of what type of zinc is used in Tinnitivix, we surmise it is the lowest form, zinc oxide.
Magnesium Citrate (150 mg) has a high bioavailability of 90% but only 16% of magnesium citrate is magnesium. The amount of magnesium in 150 mg of magnesium citrate is about 24 mg, a very small dose. The Recommended Daily Allowance (RDA) of magnesium is 400 mg.
2 – Nerve Optimization Complex contains the following:
Vinpocetine (10 mg) is potentially helpful for tinnitus as it improves blood flow.
Ginkgo Biloba Extract (4:1) (50 mg) provides no help at all. Standardized Ginkgo Biloba Extract is a 50:1 extract and the ginkgo used in ATF is about a 60:1 extract. You might as well chew the leaves of a ginkgo tree than take a 4:1 extract. It is 12.5 times less concentrated than the standard extract and 15 times less concentrated than the Ginkgo Max 26/7 used in Arches Tinnitus Formula. It is equivalent to 3.3 mg of Ginkgo Max 26.7.
Alpha Lipoic Acid (50 mg) , Acetyl-l-Carnitine (100 mg) and N-Acetyl Cysteine (100 mg) have no role in improving tinnitus. They all have healthful benefits but will not reduce tinnitus loudness.
3 – Anti-Inflammation Complex consists of Bromelain (50 mg) and Cissus Quadrangularis (100 mg).
These are plant extracts with some anti-inflammatory properties. They may be of limited help in people whose tinnitus is caused by inflammation. This includes those who have allergies, sinus problems and plugged Eustachian tubes. There will be no improvement for those who have tinnitus due to sensorineural hearing loss, the predominant form of tinnitus.
Ring Zen and Tinnitus
This product's ingredients are also encapsulated and the capsules look exactly the same, with the same size and color, as Tinnitivix. It contains the following:
Magnesium Oxide (100 mg) is potentially helpful for tinnitus and protects hearing. People exposed to loud sounds will not suffer hearing loss as greatly if they have enough magnesium in their blood supply as those who are deficient. Unfortunately, just like zinc, magnesium oxide is inexpensive and ineffective. About 4% of magnesium oxide is absorbed compared to much higher rates of other magnesium compounds. The RDA of magnesium is 400 mg. This compound will provide 4 mg magnesium.
Citrus Bioflavonoids (500 mg) have been discussed in a previous article about Lipo-Flavonoid. It has been shown that citrus bioflavonoids have no effect on tinnitus. They act as antihistamines and may provide some relief from vertigo caused by Meniere's disease but will not help reduce tinnitus sounds.
Deodorized Garlic (300 mg) may have some benefit. Garlic promotes healthy circulation and can reduce plaque build-up in the artery feeding the cochlea. Odor controlled garlic is also used in Arches Tinnitus Formula®.
Ginkgo Extract (4:1) (200 mg) is the same worthless product used in Tinnitivix. It is barely an extract at all and is equivalent to 13.3 mg of ginkgo in Ginkgo Max 26/7, the ginkgo extract used in Arches Tinnitus Formula.
Summary of Tinnitivix and Ring Zen
As discussed above, the ingredients in these products will have minimal effect on tinnitus, if any. The minerals used are either not described or of poor quality. Many ingredients have no effect on tinnitus. Some act as antihistamines, which may help those will allergies or sinus problems but not people with tinnitus caused by hearing loss, which is the great majority.
Sadly, the one ingredient found in both products that could help reduce tinnitus, Ginkgo biloba, a 4:1 extract, is barely an extract at all and will not have any effect. The standardized Ginkgo Biloba Extract is a 50:1 extract and Ginkgo Max 26/7, used in Arches Tinnitus Formula, is a 60:1 extract. The 50 mg Ginkgo extract (4:1) used in Tinnitivix is equivalent to 3.3 mg Ginkgo Max 26/7 and the 200 mg Ginkgo Extract (4:1) used in Ring Zen is equivalent to 13.3 mg. Arches Tinnitus Formula provides 480 mg of Ginkgo Max 26/7 per recommended daily dosage.
Arches Tinnitus Formula® for Tinnitus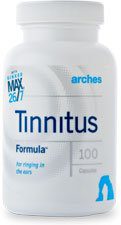 As we have stated previously in this series, Arches Tinnitus Formula was developed based on an abundance of clinical studies showing the ingredients to be helpful in reducing tinnitus sound levels. These ingredients (taken daily) are; Ginkgo Biloba Extract, with our proprietary Ginkgo Max 26/7, (480 mg), Zinc Picolinate (30 mg) and Odor Reduced Garlic (600 mg).
There are over 35 clinical studies showing the effectiveness of these ingredients for tinnitus. Particularly, one overview of 19 clinical studies using ginkgo extract (EGb 761) for tinnitus treatment concludes, "The investigations showed a clinical efficacy of EGb 761 in cases of acute and chronic tinnitus. Two large scale studies, however, established that in case of shorter durations of the disease a better prognosis and treatment success are to be expected in general. The clinically relevant conclusion to be drawn from this is to start treatment as early as possible." (1)
Clinical studies also support the use of zinc in tinnitus treatment. The largest concentration of zinc in the body is found in the cochlea and zinc acts as a powerful antioxidant, reducing damaging free radical changes. One trial found 82% of people treated with a high quality zinc compound had reduced tinnitus severity. (2)
Arches Tinnitus Formula has created a proprietary, highly concentrated ginkgo extract that is designed specifically for people with tinnitus. We have done this by using more raw material and extracting a more potent composition. Unlike many manufacturers who water down their product or don't extract it to high standards in order to increase profits, Arches has increased the concentration above what is considered standardized. Please see our registered Ginkgo Max 26/7 Certificate of Analysis.
When searching for a product to help reduce tinnitus, it is always best to look carefully at the science and at the quality of the ingredients. Arches Tinnitus Formula clearly stands out as the only product scientifically formulated for tinnitus and supported by clinical studies.
Superior Ingredients Produce Superior Results™.
References:
1 – Holstein, N. Ginkgo Special Extract EGb 761 in the Treatment of Tinnitus. Fortschr. Med. 118 (2000), p. 157-164.
2 – Arda HN, Tuncel U, Actogan O, Ozluoglu LN. The Role of Zinc in the Treatment of Tinnitus. Otol. Neurotol. 2003 Jan;24(1):86-9.