By Barry Keate
Barry Keate, has lived with tinnitus over 40 years and has published 150+ research articles on numerous aspects of tinnitus. He is an expert on the condition and a well-known advocate for those with tinnitus.
Since 2001, there has been a continuous stream of clinical trials which confirm the advantages of using Ginkgo biloba for tinnitus. A current study, published by Dove Medical Press in June 2018, builds on previous studies and shows Ginkgo biloba to be an effective treatment for tinnitus and dizziness for elderly patients who have varying degrees and types of dementia. (1)
Tinnitus and Dizziness Study
The current study is a meta-analysis of five clinical trials published in the UK. This study was based on a previous meta-analysis by von Boetticher (see below). The researchers wanted to study further the results of that trial which showed older people with cognitive impairment and tinnitus were helped with Ginkgo biloba.
A total of 1,972 patients, aged 50-98 years, were treated with a daily dose of 240 mg Ginkgo biloba extract (EGb 761) for a period of 22-26 weeks. The patients were randomized to receive either EGb 761 or placebo.
Neurosensory symptoms such as tinnitus and dizziness are frequently observed in elderly people and even more so in those with dementia. Five-year incidence rates of tinnitus for elderly dementia patients hovers around 18%. One-year incidence rates of significant dizziness occurs in 20% of persons older than 60 years, 30% in those older than 70, and 50% in those over 80.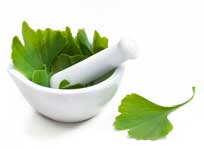 Patients were enrolled for their diagnoses of mild to moderate dementia, however a considerable portion of the patients also complained of tinnitus and dizziness. Overall EGb 761 was found to be clearly superior to placebo in alleviating both tinnitus and dizziness. The researchers concluded, "This should be taken into account when choosing an appropriate treatment for patients with dementia and neurosensory symptoms (such as tinnitus)."
Related Studies on Ginkgo for Tinnitus
In 2001, Norbert Holstein, MD conducted a meta-analysis of 19 clinical studies using Ginkgo biloba for the treatment of tinnitus. This was published in Fortschritte der Medizin, a highly respected German medical journal. (2) All patients were treated with EGb 761, the Ginkgo biloba extract first developed and defined by the Dr. Willmar Schwabe GmbH & Co. of Karlsruhe, Germany. The 19 clinical studies contained 2,337 patients with tinnitus.
Results of this meta-analysis showed, "…a statistically significant superiority of the treatment with Ginkgo biloba extract EGb 761 as compared with placebo or reference drugs applied for periods of one to three months." The meta-analysis also concluded that, "… in case of shorter durations of the disease a better prognosis and treatment success are to be expected in general. The clinically relevant conclusions to be drawn from this is to start treatment as early as possible."
A decade later, in 2011, Alexander von Boetticher, MD conducted a systematic review of 9 clinical studies, using Ginkgo biloba extract EGB 761 on tinnitus patients, one of which was the Holstein meta-analysis, above. This systematic review was published in the US journal, Neuropsychiatric Disease and Treatment. (3) Some of these studies were conducted on patients with age-associated cognitive impairment or dementia in whom tinnitus was present as a concomitant symptom.
In his review, von Boetticher noted, "In all identified and retrieved studies using the standardized Ginkgo biloba extract EGb 761, this preparation was found to be superior to placebo in the treatment of tinnitus." He concluded, "Considering the limited data from methodologically sound, well controlled trials of other therapeutic options, the robust and consistent data available for tinnitus treatment with EGb 761 should be appreciated."
More recently, a 2017 study on ginkgo for tinnitus  treatment was published in the US journal, the Journal of Otolaryngology – ENT Research. (4) This study was designed to compare 90 tinnitus patients in three groups. The first group was administered 10 ml Caroverine by injection followed by twice daily capsules; the second group was given 120 mg Ginkgo biloba EGb 761 twice daily by mouth; the third group was given a multivitamin.
Caroverine is a muscle relaxant drug developed in Austria to relieve spasms in smooth muscles. It has been used with limited success on tinnitus patients. It is only available in Austria, Switzerland and India and is not available in the US pending FDA approval.
The study's results showed 63% of those who were administered Caroverine had a favorable reaction after they received their injection; however, 25% of these individuals had a recurrence of tinnitus after taking the capsules, resulting in an overall favorable reaction of 47%. The group that received Ginkgo biloba for tinnitus treatment had a 60% favorable response which was sustained throughout the trial. No portion of the multivitamin group showed a response.
The researchers in the 2017 study concluded, "According to the study, Ginkgo biloba is a better drug when compared to Caroverine in the long-term treatment" of tinnitus.
Conclusion
Those familiar with clinical trials understand that no single trial can stand alone as proof of effectiveness for any treatment. It is the preponderance of evidence from many trials that must be evaluated.
Some trials that were conducted prior to 2001 were done so with extracts of Ginkgo biloba that were not identified or in which the exact components were unknown. Every single trial conducted with the specific Ginkgo biloba extract 761 has shown it to be an effective natural tinnitus treatment. The four meta-analyses and the one individual trial mentioned here contained 34 individual clinical trials which all demonstrated the effectiveness of Ginkgo biloba for tinnitus treatment. The obvious conclusion is that Ginkgo biloba, provided it is a high quality, standardized extract, is an effective option in the treatment for tinnitus symptoms.
Arches Tinnitus Formula with Ginkgo Max 26/7
Arches Tinnitus Formula® contains our
proprietary extract Ginkgo Max 26/7®, zinc picolinate and odor reduced garlic. This formulation exceeds the requirements of the standardized EGb 761, resulting in higher concentrations of the active ingredients. The formulation has been designed specifically for people with tinnitus, providing them with increased concentrations of the components necessary for reducing tinnitus.
Arches Tinnitus Formula with Ginkgo Max 26/7 is undoubtedly the most effective natural tinnitus treatment available. Although there is a lack of recognized medical options for the treatment of this condition, Arches Tinnitus Formula holds great promise in being an effective treatment for tinnitus and providing relief for the millions of people suffering from it.
References:
1 – Spiegel R, Kantokoudis G et al. Ginkgo Biloba Extract EGb 761 Alleviates Neurosensory Symptoms in Patients with Dementia: A Meta-Analysis of Treatment Effects on Tinnitus and Dizziness in Randomized, Placebo-Controlled Trials. Dove Press June 13, 2018, Volume 2018:13 pp 1121-27.
2 – Holstein, N, Ginkgo Special Extract EGb 761 in the Treatment of Tinnitus. Fortschr. Med. 2001 Jan 11; 118(4) pp. 157-164.
3 – von Boetticher A, Ginkgo Biloba Extract in the Treatment of Tinnitus: a Systematic Review. Neuropsychiatr Dis Treat. 2011; 7: 441-447.
4 – Raja R, Reddy L, A Clinical Study of Tinnitus. Otolaryngol ENT Res 2017, 9(4): 00298